Women today lead a hectic lifestyle. Trying to achieve a work and home balance is not an easy task leaving most of us with no time to care for ourselves.
Dr Sharifa Shahreen Sultan
Medical Consultant
Spectrum Of Life (SOL)
Daily, our skin is exposed to dirt, pollutants, make-up and harsh chemicals in our skincare products not to mention an unhealthy diet coupled with hormonal and stress disorders. All these contribute to an accumulation of toxic substances inside our bodies as well as our skin. It shows up on our skin with signs like redness, inflammation, blemishes, dull and dry skin.
Detoxification is a way of removing unwanted toxic build-up in our bodies. Detoxing is not just for the internal body but also very important for the skin. Whether we struggle with dry skin issues, unhealthy limp hair or dull skin, it's never too late to start a good detox beauty routine.
Having a good daily, weekly and monthly schedule can leave us with a perfectly glowing and groomed face, hair and body. A regular skincare routine can limit and help reverse the signs of ageing and reduce the signs of skin damage.
Some of the benefits of skin detoxing are:
Rejuvenate and improve our skin appearance as it removes toxins and impurities from inside our skin.
Clearer and brighter skin as it cleans pores, blemishes and removes blackheads.
Hydrates the skin.
Improves skin tone as detoxing firms and tightens the skin.
As a result, our skin will feel and look younger!
Ways to detox the skin
Water
A healthy balanced diet
A good skincare routine
Moderate physical activity
Water, Water, Water!
The amount of water the body requires really depends on the individual's weight but aim to drink at least 2 litres of water a day. It is the easiest way to stay fresh and achieve a hydrated glowing complexion. Water also helps flush out toxins in our bodies through the kidneys and best of all, water helps shed unwanted fat in the body. Choose from plain water to infused water, fresh fruits and vegetable juices to stay hydrated all day. Your skin will thank you for it.
Balanced Diet
A healthy balanced diet with high fibre content contains essential vitamins that are important for clear, toxin free skin and long term health in general. Stay off sugar as much as possible as sugar ages a person!
Yes you heard that right – sugar ages you faster than your biological age.
Although there are many factors that can ruin your skin, sugar is probably one of the worst offenders for outright ageing your face and body. Not only should you be avoiding sugar for dietary reasons, you now have the added incentive of protecting your looks from the ageing effects of sugar. Sugar bonds with protein in our body and produce free radicals which destroy your collagen and elastin, the building blocks which keep your skin supple and strong. Sugar also hardens collagen and elastin which prevents them from making more. These effects cause your skin to lose its elasticity, lines and wrinkles start to set in and the signs of ageing become more visible.
5 Signs That Sugar Is Ageing Your Face
The effects of sugar on your skin are so unique, there are tell-tale signs on your face that sugar is the culprit ageing you:
The surface of your skin looks hard and shiny.
Deep, crosshatch lines appear along your upper lip.
Discolouration and hyper-pigmentation mark the skin.
Deep crevices appear, especially around the laugh line area.
Skin around the jaw area is sagging.
The good news is that you can stop this and it is never too late to prevent the signs of ageing. This is what you can do to stop the damage done to your skin and look great:
Cut back on sugar and sugar based products. Look out for foods containing fructose and corn syrup.
Vitamins B1 and B6 supplements inhibit the damage caused by sugar bonded proteins.
Eat foods containing high antioxidant to reduce free radical damage to the skin and body.
Using skincare products with anti- oxidants like vitamin C also helps reduce the signs of ageing.
Skincare Routine
Body:
Daily: Dry body brushing, shower and moisturising
Brushing is one of the simplest DIY skin detox techniques but sadly most people don't know about it. Dry brushing before your shower helps remove dead skin cells and promotes blood circulation and lymphatic drainage. Dry brushing also leaves you with smoother skin, decreases the appearance of cellulite and helps reduce stress levels. Using a natural bristle brush or a dry loofah, start from the feet and move up to the chest area, gently brush your skin in circular motions towards the heart.
Follow with your regular shower and moisturising routine.
Weekly: Exfoliation
Weekly exfoliation of the skin helps remove dead dry skin, keeping it smooth and bump free. Exfoliation also gives your face and body a healthy glow.
Monthly: Body massage
A body massage is important to help reduce stress and can do wonders for your health. The skin and your senses benefit from an hour of having a good quality oil massaged in.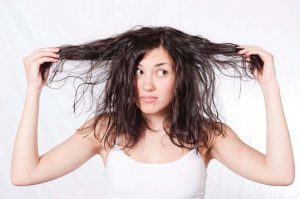 Hair
If you are experiencing any of the following, it's time to detox your hair:
a dry scalp
excessive oily scalp
itchiness, dandruff
pain on the scalp
hair loss or hair fall
brain fog
dull dry hair
Too much styling and colouring can lead to loss of volume, breakage, dullness, and split ends and it's a vicious cycle because hair can grow in thinner and weaker.
Weekly: Massage and remove build up and hair mask
A detoxifying shampoo will help remove chemical build up which can make your hair dull.
Never comb wet hair with a brush. Always use a wide-tooth comb to brush wet hair.
When you wash your hair, massage your scalp deeply to encourage blood circulation. Not only will this stimulate hair growth giving you longer hair, but it will also grow healthier and thicker. Try to do this at least once or twice a week when you have the time to really give your head the attention it deserves.
A weekly hair mask will give deep conditioning to your hair so invest in a good deep conditioner for those luscious locks.
Fortnightly: Hot oil treatment
You can use any oil you like but here are some oils you wold want to consider using and maybe blending!
Jojoba oil: Is a good choice if you have oily hair. It will leave your hair soft without weighing it down.
Coconut oil: Is my favourite oil and is great for all hair types and helps with that dandruff problem.
Castor oil: castor oil is a little thick in consistency but is great at adding strength to your hair, which is great for those of you that have thin fine hair that breaks easily.
Sesame oil: great for any hair type, this oil adds shine and conditions the hair while slowing down hair loss.
Avocado Oil: is a good choice if you have dry frizzy hair.
Of course, there are myriad other oils you can use in your personalized hot oil recipes. Oils like argan, sweet almond, apricot kernel, kukui … the list goes on. They'll all leave your hair soft and shiny
Monthly: Trim
Trim your tresses every 6 to 8 weeks to keep split ends out and allow your hair to keep to it defines style.
Nourishing treatment
Pack yourself full of vitamins. Unlike a body detox, a hair detox calls for you to eat healthy fats and protein to boost the nutrients that go into your hair strands and give you glossy, healthy locks. Avocados are a great source for this. Your hair is mainly made up of protein so tuck into lean meats, fish and eggs. Any product or food containing Vitamins A,B,D and E or coconut oil are also essential as they will help to add moisture.
Face
Daily: cleansing and moisturising
Twice a day cleansing is essential to keep your skin glowing. Night time cleansing is especially important because we remove the days make up, dust and grime from our skin.
A toner to suit your skin type is important to seal those pores and prevent blackheads and whiteheads.
One of the most essential products a woman should invest in is a good moisturiser. Moisturising your face will help you to look and feel younger, you will have softer, more elastic skin, and it will keep your skin hydrated
Weekly: exfoliation and face mask
Exfoliating weekly takes out the grime and dry skin from your face. Do not over scrub though as it can irritate the skin. To properly exfoliate make sure you always wash your face first, then apply the scrub in a circular motion. Focus on areas around the nose and your forehead. Follow up with a nice smooth and thick moisturiser to hydrate your skin.
Monthly: Facial
Facials are great for intensive, deep cleaning and keep wrinkles at bay.
Other simple techniques to reduce toxin load and skin damage:
Don't smoke: smoking contributes to wrinkles around the mouth and eyes.
Stop or reduce alcohol: alcohol dehydrates the body and skin.
Get enough sleep and sleep early
Exercise regularly: exercise keeps you fit and healthy and this will show directly on your skin too.
Incorporating a good skin detox into our beauty regime will pay off many years down the line.
Dr. Sharifa is a registered doctor with an MBBS qualification. She also holds a certificate of Diploma in Family Medicine and Diploma in Human Nutrition. She is currently practicing as a Medical Consultant at Spectrum Of Life Wellness Centre. Dr. Sharifa is highly competent in the field of nutritional and lifestyle medicine as she has practiced as a family physician for more than 10 years.