Healthy, youthful skin starts with a good skincare routine. If you are looking for quality products that can help you maintain great skin, the dynamic combination of GlutaGlow and UVeCARE Sunscreen is a wonderful addition to your daily skincare ritual.
A Skin Supplement with Multiple Beauty Benefits
Featuring four of the most well-known beauty ingredients: yeast extract (containing L-glutathione), marine collagen, astaxanthin and vitamin E, GlutaGlow is a comprehensive 4-in-1 beauty supplement that offers a range of skin-enhancing benefits. These include whitening, firming, moisturising as well as UV protection.
L-glutathione protects the skin from damaging ultraviolet rays and offers skin brightening benefits while astaxanthin serves as an internal sunscreen which contributes to preserving skin elasticity. The supplement also includes marine collagen to help with reducing wrinkles as well as vitamin E to give your skin an antioxidant boost. These four ingredients work harmoniously together to nourish and improve your complexion with every application.
Based on research, GlutaGlow users reported that there was a reduction of wrinkles, and their skin felt more hydrated and supple. The study has also shown that there are visible whitening effects and no signs of UV damage after regular usage of GlutaGlow.
It's easy to enjoy GlutaGlow benefits: just mix 1 to 2 sachets of this supplement with 200 to 250ml of room temperature water. Take it daily to ensure better skin health from the inside out!
Shield Your Skin with a Skin-Loving Sunscreen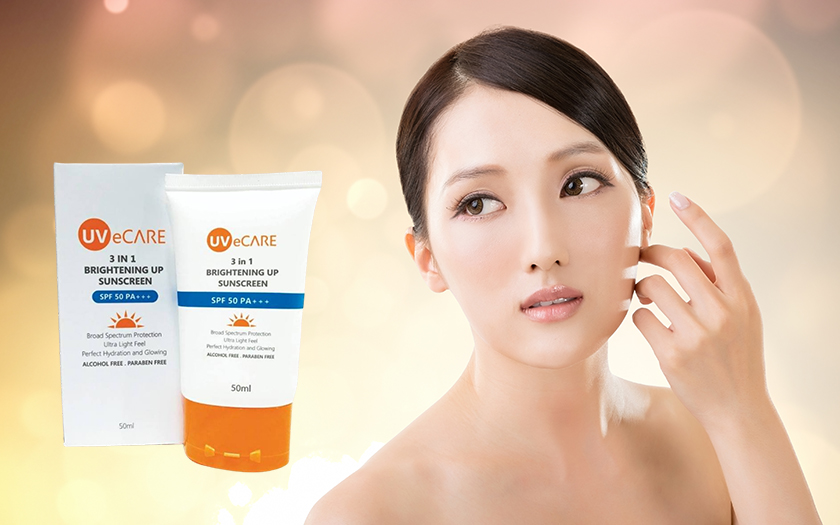 It's essential to protect your skin from the sun's harmful ultraviolet rays. Thus, you should arm yourself with a dependable sunscreen that comes with optimal SPF (sun protection factor) suited for your skin type.
For maximum protection for your skin, UVeCARE 3-in-1 Brightening Up Sunscreen (SPF50 PA+++) provides more than just sun protection as it also helps to brighten and infuse your skin with hydrating properties.
Formulated with vitamin C, arbutin and glutathione, UVeCARE sunscreen helps to prevent damage to the skin caused by harmful UVA and UVB rays including sunburn, pigmentation, age spots, wrinkles and dull complexion. This sunscreen is free from alcohol, fragrance and paraben and does not leave a sticky, greasy feeling on your skin. You can use it on your entire body as well as your face and neck.
Regardless whether it is sunny or cloudy outside, remember to apply UVeCARE sunscreen before you go outdoors. Apply an appropriate amount on your body and let the cream fully absorb into the skin. Reapply every 3 to 4 hours if you will be exposed to the sun throughout the day. Thanks to the sunscreen's gentle ingredients, rest assured you can use it several times a day.
For more information, visit their Facebook pages at GlutaGlow and UVeCARE.